Just to let you know: Google Reader is closing.
I'm kidding. Of course you know it's shutting down. Many of us were utterly shocked to hear that Google Reader is due to close on July 1. The most popular tool to aggregate and browser RSS feeds has been discontinued, so the huge army of its users has started to look for a reliable alternative. Feedreader Online is just what you need.
One of their major requirements is that the new RSS viewer should allow for importing users' old feeds from Google Reader. That's understandable: some of them have been collecting RSS feeds for years, so it's no wonder they don't want their vast collection lost in a couple of seconds. Even less attractive is the prospect to transfer all the feeds manually, one by one. Don't think we missed this problem: Feedreader Online can give you a hand with this.

To import all of your Google Reader feeds into Feedreader Online, you just need to click 'Show stream info' in your Feedreader Online account. A large panel with the list of your feeds and a Google Reader logo button should open. The button with the Google Reader logo is obviously what you need. To illustrate this point, the text next to the right reads, 'Importing feeds from Google Reader'.
If you are not signed-in to your Google account, you are first prompted to log in, after which you are asked to Allow Feedreader Online access to your Google Reader feeds. If, by any chance, you are already logged-in, you'll get to see an access query without further ado.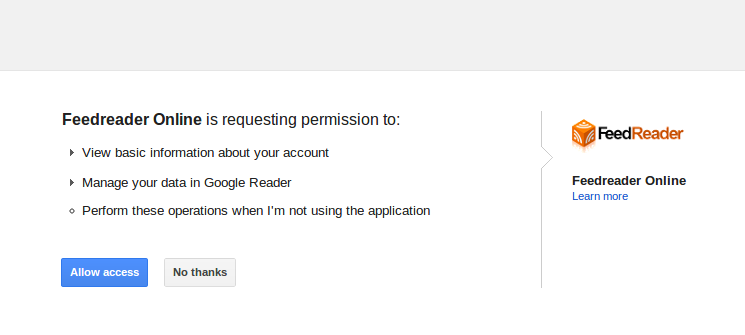 After you agree to give Feedreader Online this access, you may lean back and relax: that's basically it. Depending on the number of your feeds, importing them into Feedreader can take a while, so don't get afraid if page has been loading for too long. Eventually, you will be redirected back to your Feedreader Online account, where you can view all of your feeds in one stream. If you want to read separate streams, just open the Stream Info panel and click the feed's link. Voilà!